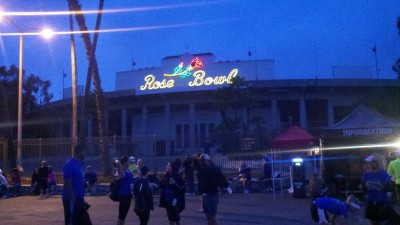 I figured I'd be out incredibly quick on Saturday night. I'd worked an 11.5 day before and fell fast asleep on Friday only to have to wake up early to get ready for Sam to pick me up. I stayed awake for the trip. I can't exactly sleep on the road.
And I had a headache by the time I went to bed. So I took an Ibuprofen hoping I wouldn't wake up with a nasty one the next morning.
That wouldn't be the problem. No. I couldn't even get to sleep.
When I finally opened my eyes for real at 4:53 a.m. I knew that it wasn't going to the best day for running. My whole body was dragging.
Too much work and no sleep kind of does that. But we got dressed and ventured out.
We made our way to the Rose Bowl and only got stuck behind about 10-minutes worth of traffic getting into the parking lot. It wasn't a bad parking situation actually. We made our way quickly from the car to the staging area. The portable toilets were plenty. I'm not kidding, there were enough toilets that it didn't seem like there were any people waiting.
Nice. That was good because my stomach was turning knots. One after another. My stomach was killing me.
I'm not even going to pretend to do a recap. Every mile was painful. Every mile was hard.
And this is what it looked like: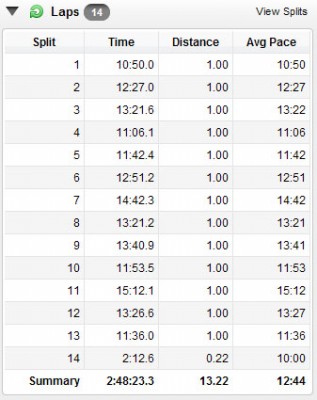 OK. I didn't hit the 13-minute average range. But still. This was a bad run. I did a Gu on mile four and mile eight.
That propelled me through a little bit. But it wasn't enough. I just never picked up pace. At mile 10, though, I felt as if I could run awhile longer. I did. Then my butt started hurting, as if I pulled a muscle or something.
Then I slowed again.
Along the way were beautiful sites, including the Colorado Blvd. bridge, and Old Pasadena.
There was a ton of cheering. This was my second Rock 'n' Roll event, and I have to say I enjoyed it just as much as the first in terms of fun, but my heart just wasn't in it. I was tired.
Too tired.
And by the time I reached the end at 2:48:19 I knew I'd given it all I could.
I pushed myself a little farther, passed the finish line and was handed my medal by a nice volunteer who gave me some strong encouragement.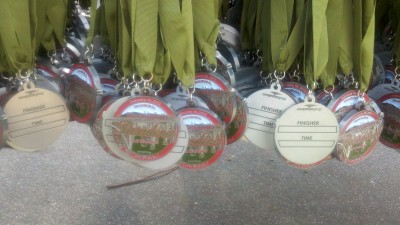 I snapped this photo as I saw a member of the Half Fanatics group as for a second medal for his sister, he said. And, more shocking, the volunteer actually gave him one. Really? Wow.
I loved the medal. I actually held it nearly the entire way home because it's so awesome and I really felt like I'd earned it for the five or six times I felt like quitting during this one.
When I got to the finish, I waited for Sam as they tried to kick me multiple times out of the area. I actually stood in one place for about 10 minutes before being asked to move. And yet a lot of people were around that weren't being asked to move. I think I was just annoyed, which made this all feel so much worse.
Ugh. Double ugh. Triple ugh.
Then Sam crossed the finish line: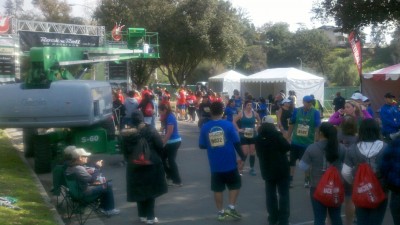 She's somewhere in all that. She grabbed her medal and we headed off into the rest of the finisher's area, which wasn't nearly as packed as it was in San Jose during the October event.
I grabbed a Gatorade and some water. A volunteer gave me a heatsheet, even though it seemed a little warm and, by then, I'd already put on long-sleeve shirt.
And I was done.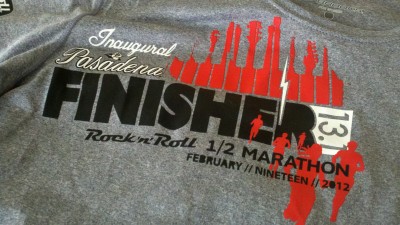 The one good thing about this half was that the band that played at the end was Sugar Ray. I was really looking forward to seeing them, especially since I should have been finishing around the time they started playing.
By the time we finally got to the finish, after picking up our bags from bag check and getting some food, Sugar Ray was in the last half hour of the concert.
But they rocked.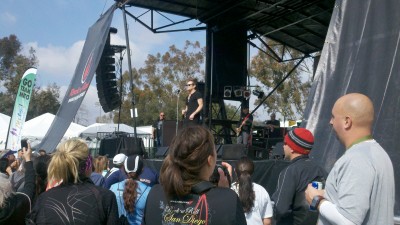 I have some great video of Mark McGrath rocking the cowbell which I'll post another time. Overall it was an excellent concert. When it was over, we headed to the merchandise tent where I picked up the gray shirt photographed above. And we headed to the car. It was a quick ride back to the hotel room where we cleaned up and packed within an hour.
And then, it was back on the road, our whirlwind trip to Pasadena ending.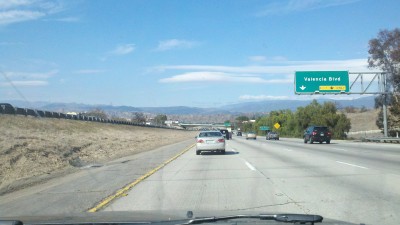 Four and a half hours after we hit the road, we were home. I was tired. I fell asleep quickly on Sunday night, which was great because of the Monday holiday.
And now, as I reflect on it, I think part of me knows it was the result of fatigue. But I also know I've gained some weight recently that hasn't helped.
I run the Oakland Half in a month or so. I want to be more prepared for it than I was for this. I thought I was prepared for this. Nope.
Now I'm taking a look at my diet and training plan to see where I went wrong. I know bad runs happen, but they also make a runner reflect on what he or she did wrong and right. That's where I am right now.
So did I really rock through Pasadena? No. Was it still a good time? Of course. And I'm glad I did it, despite the pain and discomfort of all 13.22 miles.