Today marked kind of a comeback for me, more than last week's performance at my half marathon.
This morning, I went back to my base mileage point and ran a 10 for the first time outside since my gallbladder removal. I've run a couple shorter, smaller runs, but nothing this long.
I think everything was aligned just right, because this is the view I was greeted with: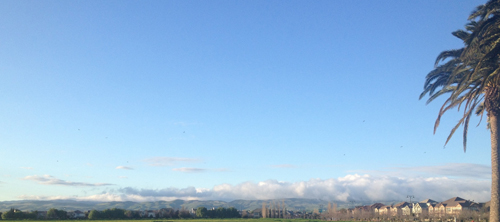 A beautiful crisp morning. No clouds (that's fog rolling over the Diablo Range) and a slight breeze. I kind of wanted to just sit and stare at it.
A couple notes from my run:
I didn't have the stomach/abdomen issues I was having before the gallbladder removal. That means I went to the bathroom less and ran more, plus I enjoyed the run. No bending over and clenching my side.
We went slow, to get through the 10. My running buddy has kind of fallen off training since I lost my gallbladder. She actually said, joking: "Damn you and your gallbladder removal." I think she was joking at least.
My new Nike LunarEclipses gave me blisters. Yep. On my baby toes AND along the inner part of my right foot. I haven't had running blisters in forever. I'm starting to think they were maybe tied too tight, or where too loose. Or a combination of the two?
I felt amazing afterward. No stress. No worries. I just ran.
We may run again tomorrow, at a slower pace. We'll see.
I just kind of had to share the view from my 10 this morning. Because it was amazing, both metaphorically and actually.